---
TOURNAMENTS

---
NEWS
Special Board of Governor's Financial Report on the ACBL
The January 2016 Midwest Monitor is available!
Congtratulations to District 11 GNT Winners - On to Washington DC!!!

MPs
Rank
Team
Championship Flight
36.0
1
Marc Low - Robert Sulgrove, Centerville OH; Scott Gates, Miamisburg OH; Russell Shoup, Dayton OH; William Higgins, Cincinnati OH; Yauheni Siutsau, Loveland OH
27.0
2

Douglas Simson - Charles Kopp, Columbus OH; Kenneth Eichenbaum, Pickerington OH; Gregory Potts, Portsmouth OH

Flight A

30.0
1
John Hinton, Greenwood IN; Peter Whipple, Mason OH; Craig Satersmoen, Huber Heights OH; Ryan Schultz, Dayton OH
22.5
2

John Meinking, Maineville OH; Bob Fisk - Cliff Pleatman - A J Stephani, Cincinnati OH

Flight B

26.0
1
Michael Gladfelter - Mary Jane Gladfelter, Columbus OH; Isaac Stephani - Vijay Vasudevan, Cincinnati OH
19.5
2

Sandra Forsythe - Steven Forsythe, Beavercreek OH; Stuart Petersen - Joseph Keim - Bill Gottschall, Dayton OH; William Hartung, Bellbrook OH

13.0
3/4

Arun Goyal - Rachna Fuerst, West Chester OH; David Britt, Union KY; Mike Ma, Cincinnati OH

13.0
3/4

Michael Purcell, Loveland OH; Stephen Moese, West Chester OH; Larry Newman, Cincinnati OH; Dennis Schultz, Harrison OH

Flight C

15.0
1
Julian Kurtzman - John Williams - Reeta Brendamour, Cincinnati OH; Barry Wauligman, Hamilton OH
11.25
2

William Cook - Patrick Lammers - Gail Zimmer - Joseph Kammer, Cincinnati OH

7.5
3/4

M Brian Clausing - Stephen Keys, Dayton OH; David Whitesell, Yellow Springs OH; Joseph Camillus, Centerville OH

7.5
3/4

Carla Runda, Maineville OH; David Elliott - Judy Crotty Hall - Mike Burns, Cincinnati OH

New ACBL Life Master Ranks are out - Check out all the changes at the ACBL Master Point Ranks Page
CONGRATULATIONS!
Isaac Stephani (Unit 124) Qualifies for the
World Junior Championships!!!!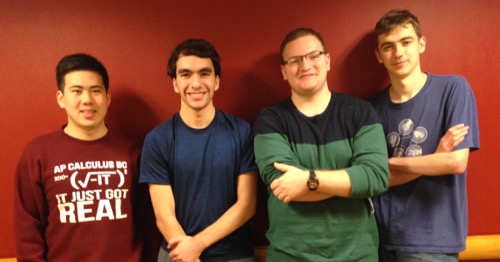 Damiani Cup U21
Salsamaggiore Italy
August 3 - 13, 2016.
The USBF competition completed in Atlanta GA earlier this week.
See
BridgeWinners
for more details.
Nolan Chang, Hakan Berk, Isaac Stephani, & David Soukup
CONGRATULATIONS! -

District 11's appointments to the ACBL Goodwill Committee for 2016:


Ms. Frances Barr (Lexington)
Ms. Billie Brown (Evansville)
Mr. Norman Smith (Louisville)
More about the

ACBL Goodwill Committee





The ACBL Board

of Directors and Board of Governors meeting summaries are posted in the Features section below.
Congratulations 2015 District 11 North American Pairs Finalists

RESULTS
Nominate your favorite Bridge Teacher!
P
lease rev
iew the criteria and
complete a nomination form, available on one of the following sites:
www.abtaho
me.com
, or
www.teachbridge.com
.
Enter your teacher before April 15, 2016 for the 2016 Teacher of the Year Award. The winner receives an engraved crystal plaque plus a cash subsidy. The finalists and overall winner will be announced at the ABTA Annual Conference, in Washington, D.C., July 19 to July 22, 2016. Questions? Contact Joyce Penn at:
abtaTOY@gmail.com
---
Click the icon at the left for the October 2015 Midwest Monitor. 5MB file.

---
FEATURES

District 11 ACBL Director Report - A. Beth Reid: Fall 2015 Denver district11director@acbl.org
The Denver Committee put on a great NABC. The Mile-High City was certainly a nice change of air from the moldy Ohio River Valley! The site was great, with free shuttle buses running up and down the mall outside the hotel, making trips to LOTS of great restaurants easy. Unfortunately, attendance was close to 10% lower than expected. Hard to say why .…MORE
ACBL D11 Director Reports Archive
Top
ACBL Board of Governors
D11 Meeting Summary
Fall Denver 2015 (Steve Moese) - 4MB file

Mr. Hartman chose to focus entirely on the Cheating scandal and the major steps underway to ensure the game at all levels is honest and ethical. For perspective, the scandal and countermeasures were page one of Robert's CEO report – the report itself is 24 pages long. ...MORE
Top
---
Rank Change Letters - Beth Reid, our Disctict BoD Representative, asks new life masters from District 11 to share their stories about their recent rank promotion. These stories are updated often. If you want to enjoy the thrill of accomplishment through other's experience, and learn more anout our District 11 members, read these letters! Updated October 2015
Top
---
SITE MAP

Top